Pablo Bronstein presents three rooms decorated with new wallpapers and printed fabrics of his design. These works, which depict the Rhode Island State House, the First Baptist Church in America, and the Stephen Hopkins House, reflect the development of the architectural imagery of statehood. The wallpapers also refer to antique examples in the RISD Museum collections and to the revival of Colonial and Federal styles at the beginning of the 20th century—styles that have not only contributed significantly to shared visual imagery, but have shaped notions of the past.
The installation pays homage to the period room, an exhibition practice now in decline. It also considers museological accuracy, the museum's blurred relationship both as a place of scholarship and an inspiration for the home, and the ways in which museums submit to local historical biases and interests in shaping their collections and displays. Envisioned within the framework of printmaking, the presentation plays with architectural and decorative motifs, inventing imagery on a large scale in relation to sculptural furniture. These rooms then become the backdrop for a new video work by Bronstein, presented in this publication.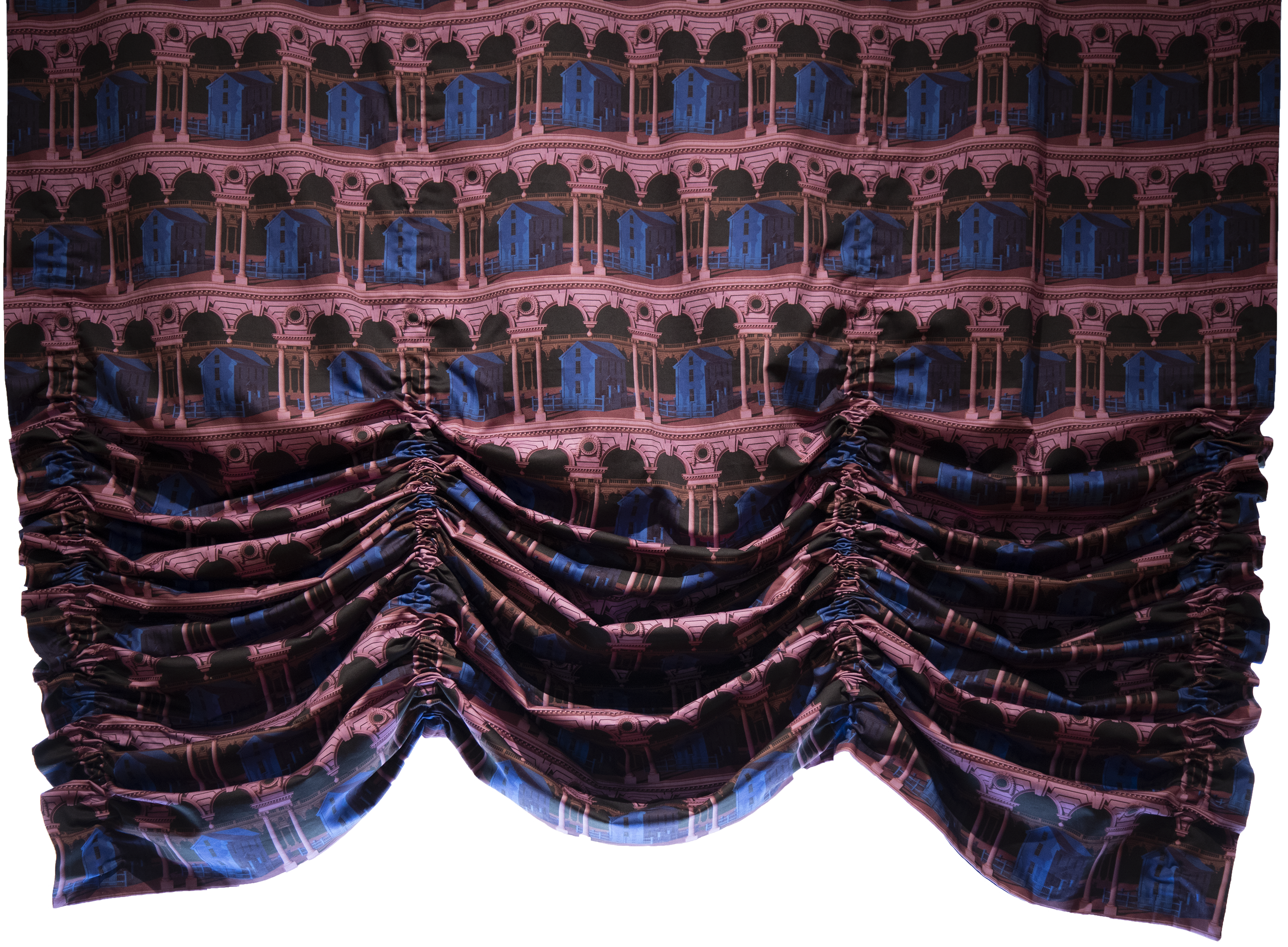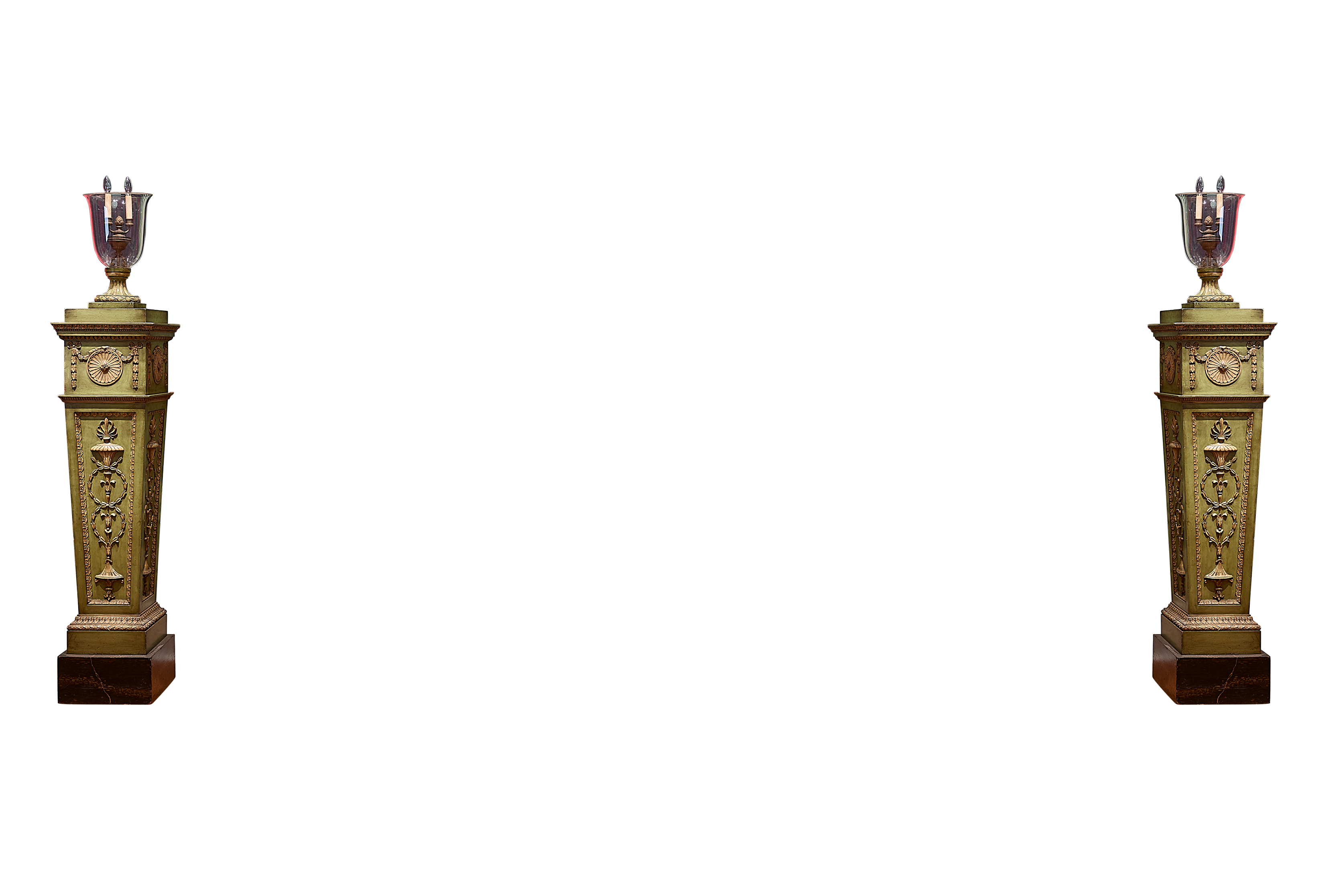 Image
Image
Image
Through the green-screen technique, Pablo Bronstein uses his Raid the Icebox Now installation, Historical Rhode Island Decor, as the backdrop for In the Realm of the Realtor, a dance filmed in 2018 that brilliantly parodies the real-estate market. Initially created as an interlude in a never-completed film in which the male character visits upscale apartments for relaxation, the piece was reimagined as a new work for this publication.
Choreographed by Bronstein with his frequent collaborator Rosalie Wahlfrid and the other performers, general movements such as gesturing, strolling about, gazing, and pointing have been inserted into what was at that time a yet-to-be-determined interior setting. The use of masks made it possible to dub in dialogue. Bronstein plays the role of the client and voices of all the realtors. In reference to his witty, nonstop commentary describing the residence, he quipped, "Although I'm quite good at bullshitting that general realtor PR blurb, which has its parallel in the gallery press release, some of the stuff the realtor says is lifted from actual blurbs produced by developers to promote their developments. I've exaggerated most of it."1
Subtitled A Masked Ballet en Pantomîme, the piece references the historical while commenting on the contemporary, a consistent trait across Bronstein's work. Ballet pantomime is associated with dance in the mid-1800s, when a language of gestures first blended ballet with pantomime to convey a dramatic story. Masked ballets are not specifically found in the genre of dance, although a number of characters in ballets are masked or appear in elaborate makeup. Bronstein was drawn to these masks because they were similar to those worn by evil characters in Walt Disney films, and strangely like examples from classical ballet. "One mask is pretty close to that of the witch in Snow White. And the blue one that I wore is desaguinated, which is a good call for someone who views luxury apartments in his spare time."2 This piece includes a number of references that have long held interest for Bronstein. "The evil characters in children's TV were also important, like those on British programs like Rentaghost and Grotbags, and Skeletor and Gargamel from cartoons. The deliberately overplayed and hammy parts of some Fellini and Jarman films. I am always interested in Mike Kelley. Warhol's films are present in the phoniness and the sort of real artificial dialogue. And I genuinely love interior decoration and real-estate programs on television, where they compete to sell an apartment or stage it for sale or decorate it under a ticking clock."3
Bronstein's first installation animated with dance was Plaza Minuet, created in 2006 for the Tate Triennial, and he has choreographed many other works in the years since. Although Bronstein has not formally studied dance or choreography, he sees this activity as an extension of drawing, his primary medium. His compositions are typically inspired by sprezzatura, a language of refined movements used by European courtiers during the Baroque period of the 1600s and 1700s, which comes down to us in forms including ballet. Bronstein has said of sprezzatura, "Technically, it's quite difficult to do, and within it there's a codified snobbery. The point is to ornament the line all the time."4 In In the Realm of the Realtor, this is especially evident in the hands of the dancers, as well as in the close-up hand motions filmed in the RISD Museum galleries to accompany descriptions of specific objects. In the Realm of the Realtor is delightfully over the top—a characteristic Bronstein loves. "There is an unashamedly camp and theatrical aspect of the Baroque. It's a showy, excessive art form. This also ties into queer culture, a very ironic culture, which for someone like me is important because gay people older than me and my generation grew up assimilating and pretending."5

—
Jan Howard
Chief Curator and Houghton P. Metcalf Jr. Curator
of Prints, Drawings, and Photographs at the RISD Museum
Image
Image
 Pablo Bronstein in an email exchange with the author, March 18, 2020. The author is deeply grateful for his generosity in sharing his thoughts on this work. 
 Ibid.
 Ibid.
 Bronstein, quoted in Herbert Wright's "Pablo Bronstein: A Choreography of Errors," Design/Curial, June 9, 2016,. http://www.designcurial.com/news/pablo-bronstein-a-choreography-of-errors-4913697/.
 Bronstein, in a short video for Pablo Bronstein: Historical Dances in an Antique Setting, Tate Britain Commission 2016, https://www.tate.org.uk/whats-on/tate-britain/exhibition/pablo-bronstein-historical-dances-antique-setting.
 
Shareable Link
Copy this page's URL to your clipboard.
Created under the direction of Pablo Bronstein, this chapter accompanies the exhibition Raid the Icebox Now with Pablo Bronstein: Historical Rhode Island Decor, on view at the RISD Museum September 20, 2019–June 28, 2020. Creative direction for this chapter by Carson Evans. Curatorial support by Jan Howard. Additional support by Erik Gould and Jeremy Radtke.
In the Realm of the Realtor was directed by Pablo Bronstein. Choreography by Pablo Bronstein and Rosalie Wahlfrid, with assistance from Irene Cena and Iris Chan. Camera of choreography by Matthew Burdis. Performances by Rosalie Wahlfrid as Realtor, Irene Cena as Assistant Realtor, Iris Chan as Assistant Realtor, Pablo Bronstein as Prospective Purchaser, and Carson Evans as Hand.
 
In the Realm of the Realtor © Pablo Bronstein, 2020.
Museum object photography by Erik Gould.
Featured Collection Objects
RISDM 31.139. American, probably New York City. Side Chair, ca. 1790-1815. Gift of the Estate of Mrs. Gustav Radeke.
RISDM 37.257. American, Eastern Massachusetts. Sofa, 1790-1815. Gift of Elliot Flint.
Image